Desert Sun School was started in 1930 for children at ranch
By Michael McBride
The Press-Enterprise
Friday, November 30, 1990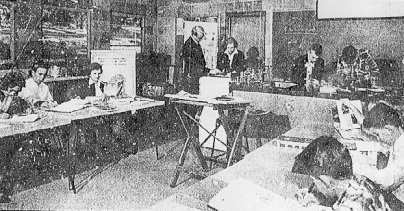 Biology students in 1967 when the school was called the Desert Sun School
The Elliott-Pope Preparatory School was founded as the Desert Sun School in 1930 by Richard Wharton Elliott, his wife, Edith Hammond Elliott, and her sister, Helen Hammond Jayne.
Mr. Elliott was a Coachella Valley rancher and Mrs. Elliott a school teacher when they met.
The school began as an elementary school to educate their children and those of other local ranchers. It was located on the Elliott Ranch in Mecca, south of Indio, near the shores of the Salton Sea. Mrs. Elliott and Mrs. Jayne taught grades one through nine.
In 1943, the school began a summer session on the site of a Depression-era country club in Saunders in Idyllwild. The Elliotts moved the school to the mountain property in 1946. It became a boarding school and began high school courses in 1951, graduated its first senior class in 1954 and converted to an eighth-through-12th-grade program.
As a preparatory school, it emphasizes preparation of youngsters for college. Courses include mathematics, English, the arts, foreign languages, social studies, science, ethics and computer science. In addition to traditional physical education courses and team sports, the school has a horseback riding program and a wilderness class that includes backpacking and rock climbing.
Mr. Elliott retired from the school's teaching staff in 1968. He served on the board of trustees until 1983, when he was named a lifetime trustee.
Mr. Elliott assisted his wife, the school's headmistress from the beginning until May 1971, when she retired. Mrs. Elliott died a month later. Mr. Elliott died at the age of 90 in November 1989.
Financial troubles dogged the mountain school and, in 1983, a San Francisco consulting firm, hired to help market it, recommended a name change.
The board of directors obliged, and the school was renamed for the Elliotts and Edker and Blanche Pope of Yorba Linda, longtime benefactors whose financial support kept it open.
Headmaster Damon F. Bradley said he and the board talked to members of both families "and neither of them wanted the school to have their names."
"They were too modest," said Bradley. "Finally, Mr. Elliott agreed to let us use his name if we also used the Pope name, and the Popes agreed to let us use their name if we used the Elliotts' name."
At the time, the school had 156 live-in students and 32 non-resident Idyllwild-area students. Live-ins paid $9,750 a year for tuition and board, while others paid $4,925 a year in tuition.
Tuition-and-board cost for live-in students is now $16,800 and $8,750 per year for day students. The school has about 100 boarding students and 30 day students.
Over the years, the school earned a reputation that attracted students from all over the world, particularly the Middle and Far East. Celebrities, including Frank Sinatra, Peter Sellers, Hoagy Carmichael, Fred Astaire, Art Linkletter and the Lockheed family sent their children to Elliott-Pope.
Internationally renowned choreographer Bella Lewitzky, who spent more than 30 summers on the faculty of the Idyllwild School of Music the Arts across town from Elliott-Pope, and who was once the featured speaker at an Elliott-Pope graduation ceremony, said yesterday she was "heart-stricken" at the news of its closing.
"There are certain citadels that should remain constant in life," said Lewitzky." (Elliott-Pope) should have been as permanent as Lily Rock (an Idyllwild landmark). It's always discouraging and a little depleting when something like that doesn't turn out.
"It's distressing when something that looks as established, necessary and useful as (Elliott-Pope) did is no longer there."
Copyright: The Press-Enterprise
---
Copyright © 1998 David Gotfredson